Post by zappy99 on Jan 23, 2018 19:29:14 GMT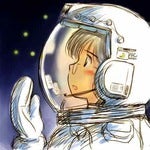 What are the sub-munitions like? Do they simply explode after a set time or do they go off based on proximity to the target? I ask this because I was similarly inspired by jtyo's design, but my sub-munitions don't seem to explode at all.
The munitions use 100 ms fuses. At the speed my missiles are usually going, that's enough time for all the munitions to detonate before impact. As far as I know, you need a control module for proximity fuses to work, which drastically increases the weight. Proximity fuses aren't very practical anyway, because the setup is already extremely time sensitive. The munitions are released 1 km away from the target, at 5 km/s that's 200 milliseconds before impact and in that time the first of the 1kg sub-munitions have travelled more than 16 meters - slightly more than the radius of a gunship. If you increase the travel time just a little bit the missile starts losing effectiveness, and if you decrease it too much the spread is way too tight and you overpenetrate. You are already calibrating the launchers so that you have the right travel time at the expected velocity, so you simply time the fuses so that they detonate within that travel time.